Tahiti Travelogue

- IA ORA NA!
Welcome to the islands of French Polynesia.
Very different from the Fijian Islands. Located about half way from Los Angeles to Sydney Australia it sits just south of the equator. The weather is consistently 70's or better year round. Sun up 6AM – back down 6PM. Here the native Polynesian culture has melded with the French who settled here in the late 1700's. The land is all still owned by the Tahitians and leased by the French for the many wonderful resorts.
A highlight of the resorts is Tahitian TV, found in the over water bungalows. A glass coffee table with a glass floor below to observe the many colorful fish, which you can encourage to visit by throwing bread in the water. The bread itself is a treat, fresh crusty French loaves. Here the local people have 'bread boxes' rather then mailboxes, where fresh bread is delivered right to their doorstep. Food is lots of fresh fruits and vegetables with the local seafood and always chicken and pork. Native Beer is also very good ;)
What sets Tahiti apart from other tropical island is its system of over water, thatched roof huts, with Tahitian TV. Room service is delivered by canoe. Sun rise as well as sunsets are daily occasions to celebrate. Afternoon showers end with the most spectacular rainbows crossing the lagoon completely from one side to the other.
The native Tahiation people have a history here going back hundreds of years. Sightseeing tours will pass the remains of ancient Marae (ceremonial sites). The women wear parus (colorful shifts), and will also sport coconut shells and grass skirts to dance seductively. The men love to show off their extensive body tattoos and art of fire dancing.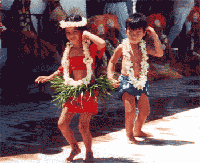 For the ladies no shopping is complete in Tahiti without a visit to one of the Black Pearl dealers. Large and lustrous, with many hues of green-black, blue-black and violet-black. It takes a lot of patient to find the 'perfect' pearl. For the more budget conscious there are all kinds of native artwork in woodcarvings and shell creations.
If this sounds like a place you would like to visit, give me a call so we can get you started. There are many excellent packages with air from L.A. that we can add on to from your home airport.
Visit the Contact page to let me know what kind of trip you might be interested in.