Australia is a island continent. A most unique destination with an amazing diversity of things to see and do. The country covers about the same size land mass as the United States, but is very sparsely populated with only some 23.2 million citizens. Most of these people live along the eastern and southern coastlines with the interior being an endless 'outback'. The vast cattle stations still rely on the services of the flying doctors and school of the air. Even the mailman is a pilot.
These wonderful hardy souls enjoy a climate of year round sunshine tempered by mother natures out burst of storms that can quickly turn bone dry riverbeds into raging seas. Their winter temperature seldom goes below 40F and accept for some areas of Tasmania and the Snowy Mt. region south of Sydney you wont see any white stuff falling from the sky. The northern state of Queensland motto is "Beautiful one day, Perfect the next". The warmest friendliest people you will ever meet, they take great pride in their country and love having visitors come for a look-see.
Australia

Travelogue - G'Day Mate!
Welcome to the land down under.
The life style is laid back and casual attire is the norm. Bring your sunglasses and lotion to protect from too much of a good thing. Insect repellent is handy to have along also. Australia is one country where besides your passport you also need a visitors visa. This can be arranged with your airline tickets and is merely a formality.
Since there is so much to cover I am going to go around city by city and just give you a brief idea of what you might see and do. If you are particularly interested in any one area I would be glad to expand on what you have found here. Australia is my favorite county on earth and I have been there many times. I have visited all the major cities and many out lying areas such as Ayers Rock, Kangaroo Island and Kakadu National Park. The country is magnificent, and offers a wide range of activities to choose from.
Generally when you fly to Australia I would put you on a QANTAS flight. One of the best airlines and an expert at long haul flights. They will take excellent care of you. I actually find the 14-hour flight from LA to Sydney relaxing. I enjoy the meals served with complimentary Australia wines and catch up on the latest movies, or finally read one of the books I've been meaning to get to. All the Australian airports are easy to get to and efficient at handling traffic. There is also very good bus and train service for those who prefer not to tackle driving on the left.
Australia is divided into 7 states and the Capitol Territory. The gateway city of Sydney is located in the state of New South Wales and this is where the English convict fleets came in 1788 to drop some 739 unfortunate souls. The Aussies learnt early how to make the best of a bad situation and Australia is now one of the world's top vacation destinations.
Some 200 miles from Sydney is the nation's capitol Canberra. A preplanned city much the same as our Washington DC, and in fact the architectural design is by an American, Walter Burly Griffin. Well thought out streets and parks in a peaceful setting. Some points of interest are the Australian War Museum, the architectural design of the Parliament House, and the Australian Institute of Sport. You could also pay a visit to the National Mint. The Australian coat of arms is interesting in that it depicts the Kangaroo and Emu, both creatures physically incapable of going backwards. There by signifying that Australians focus on progress and their country's future.
Heading south from Canberra will take you past the Snowy Mts. where Australia has a ski resort available during winter months of July and August. Shortly after that you cross into the state of Victoria and on to Melbourne. One of the most ethnically diverse cities with some 120 cultures represented. Eating out is a delight with so many different cuisines's to choose from.
You can even dine on a Colonial Tram Car as it gently rolls along the streets. A beautiful Victorian City built on the riches of the Gold Rush days in the 1850's. One of my favorite spots is the Fitzroy Gardens with Tom Cook's cottage. You could easily spend two weeks right here and do a day trip in a different direction every day.
Examples being the Great Ocean Road scenery; Ballarat's Wildlife Park and Sovereign Hill depicting the Gold mining era; Yarra Valley wineries; Healesville Sanctuary with the largest collection of Australian wildlife (the best place to see my mascot the Platypus), and Phillips Island for Fairy Penguins, Koalas and Seals. Within the city its self is theater, arts, sporting events, nightlife and shopping. A great place to shop or just wander through is the open air Queen Victoria Market. Melbourne is also known for its fashion designs. The most celebrated Australian holiday is Melbourne Cup, the first Tuesday of each November when the whole country rivets its attention to the final run of horse racing season. Other events of note are the Tennis open in January and the Grand Prix Formula One races in March.
An easy trip can be made from Melbourne to the state of Tasmania. Take an overnight ferry to Devonport, or a short flight to Lauceston or Hobart. Completely different from the 'north island', Tasmania enjoys a much cooler climate. The mountain peaks at Cradle Mt. will have snow during winter months. The fabulous Lodge there is a stop that should be included on all trips to Tasmania. Hobart is a wonderful quaint fishing village with a great Saturday market at Salamanca Place. You can also find the Antarctic Visitor Center here.
Nearby Port Arthur was the worst of the penal colony out post. These convicts faced a dreadful life sentence. Other areas of the state are much happier and since most of the state is covered by national parks and forest there is ample opportunity to hike and camp, and fish. Trout fishing is of major importance to serious anglers. You can't leave Tasmania without meeting the Tasmania Devil, a ferocious Badger like animal whose life as a scavenger keeps the forest free of disease. The state of Tasmania is important for its food productions of fruits, vegetables, seafood and dairy product as well as hosting another region of Australia wineries. And let's not forget the Cadbury Chocolate factory! :)
Catch a flight back to the mainland and over to Adelaide in the state of South Australia. The sunny climate is reflected in the sunny mood of its residents. Lots of side walk cafes to sit and reflect on life and the latest 'footy' match. Just north of Adelaide is the Barossa Valley, settled by German immigrants who brought grape vines from their native home and found them to adapt so well that South Australian wines are now noted as some of the Worlds best. The Australian National Wine Center in Adelaide represents some 50 regions of Australian vineyards. This is a good area to rent a car and stay at Bed & Breakfast.
A great side trip from Adelaide is Kangaroo Island and I highly suggest that you do it as an overnight visit. Go with one of the 4WD operators and they will take you off the beaten path and show you the rural Australia.
Besides showing you wildlife in natural habitat there is also the Remarkable Rocks whose unusual formation is definitely 'remarkable'. Your guide will produce a picnic that will delight the most discerning palate, and in the evening deliver you to a wonderful Bed & Breakfast. You will also have a chance to see the charming Fairy Penguins in the evening, minus the crowd you would have encounter at Phillips Island.
Another side trip of particular interest to fossickers is Coober Pedy. Located about 400 miles north of Adelaide this old opal mining town has people living below ground in depleted mine shafts to escape the extremes of desert heat. Tourist can find rooms at the Desert Cave Hotel. Opal is Australia's national gemstone and the endless variations of color make it very difficult to make your selection. My daughter and I could never pass a jewelers display of opals with out many 'ohs' and 'ahs'. I was finally able to select a setting that held four stones, each having a different appeal.
If you like train rides, the world famous GHAN can take you from Adelaide across the deserts to Darwin in the Northern Territory. The name GHAN is in reference to the camel packers that preceded the train. When the final leg of track was laid it put the camel packers out of work and now Australia has more wild camels then their country of origin, Afghanistan. The full trip would require 3 days and 2 nights - but better yet, take a few days break in Alice Springs.
In Alice Springs you will find the home of the Flying Doctors and the School of the Air, as well as the excellent Aboriginal Strenlow Museum. For excursions you can take an Aboriginal Bush Tucker Tour, ride a camel to dinner, or get an aerial view from a hot air balloon. The Desert Park will introduce you to the local wildlife. They also host a nocturnal wildlife tour.
An interesting event in Alice Springs is the annual Henley–on–the –Todd River Regatta usually held in October. With a dry riverbed to navigate racers rely on putting their feet through the bottomless boats and running.
A days bus trip will take you to Kings Canyon Ranch, where you can over night, and on to Ayers Rock. Ayers Rock is referred to by the Aboriginal name of Uluru and although tourist like to climb the monolith that is not appreciated by the native people who regard it as a sacred site.
My favorite activity here was a Harley ride by Uluru Motorcycles and an evening under the night sky at the Sounds of Silence Dinner. Being as isolated as it is there is no other light for hundreds of miles to interfere with the stars. Learn the Aboriginal mythology and get a closer look at the southern constellations through one of several telescopes. In the southern hemisphere you will be looking for the Southern Cross - not the Big Dipper.
From Ayers Rock you can fly due north to Darwin, the most tropical city perched on Australia's north coast. Important for it's military installations during World War II when it suffered hits from the Japanese. Being a close neighbor to Asia there is an exotic air to the compositions of citizens. This results in an interesting mix of cuisine, best experienced at the Mindil Beach Sunset Market.
Darwin is a gateway city to the northern Aboriginal lands, inhabited for some 40,000 years the area is rich in native culture. An area teaming with wildlife, the Northern Territory boasts "You haven't been Down Under til you've been Outback". Just south of the city is the Territory Wildlife Park, which will give you an excellent visit with animals in their natural habitats. One of the few places you are likely to see a 'Wilby'. Allow enough time so you can do an over night trip to Kakadu National Park.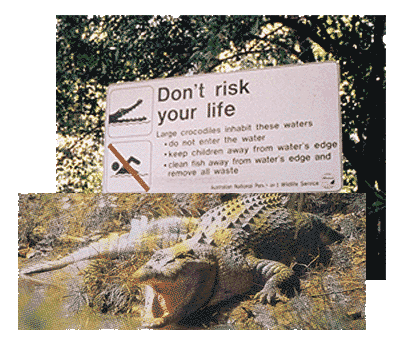 Climb the rocky escarpments and look out over the vast wet lands. Flocks of some 420 different types of birds congregate during 'wet' season, November to April. On the escarpment walls you will see ancient 'rock art', a bit of history for a people with no written language.
This area is seriously infested with crocodiles! Not a joke when you see signs telling you to stay clear of waters edge and not dangle you hands or feet from the side of a boat. They even have a crocodile shaped hotel built in honor of the areas most famous resident.
Other areas of prime interest to tourist that can be accessed from Darwin would be Katherine with its system of river gorges, and the limes stone caverns of Cutta Cutta. Litchfield National Park is home to thousands of immense termite mounds along with beautiful streams and waterfalls and safe swimming holes.
For the Sportsman the far northern reaches are a place where you can stay at camps to hunt buffalo and wild boar, or fish for Barramundi.
Before we head from Darwin to the eastern state of Queensland we will back track all the way to Adelaide. Again stating that if you are a real train buff there is a rail departure of keen interest, this one heads due west. The INDIAN PACIFIC originates in Sydney and takes some three days to cross the entire country, while a departure from Adelaide would lessen that to about 40 hours. This train has the longest straightest run in the world, an expanse of almost 300 miles with nothing to interrupt. Your destination is Perth the Capitol City of Australia's largest state - Western Australia.
Perth is the most isolated city in the world, and gateway to some of Australia's most amazing nature. A cosmopolitan city built by miners prospering on gold and iron ore. Perth enjoys a mild climate and relaxed lifestyle year round. Sitting on the coast of the Indian Ocean it offers good surfing beaches as well as calmer beaches along the Swan River. (Australian swans will catch your eye, as they are black with bright red bills!) A cruise down the Swan River will bring you to Fremantle known for its yachts and artist community. Another important river in this area is the Margaret River which is the region of Western Australia wineries. One of Perth's best known celebrations is the Festival of Flowers in spring when even the desert puts forth a profusion of wild blooms. An interesting wildlife encounter would be a short ferry trip to Rottenest Island to meet the Quokkas, These creatures resemble kangaroos but on a much smaller scale. Further north the beaches of Monkey Mia are known for friendly dolphin encounters.
South of Perth the Karri tree forest offers a birds eye perspective to the tour. By means of a walkway you can cross the tops of some of the largest trees on earth.
Western Australia has some very unusual rock formations – Wave rock, a huge wave at perpetual crest; the Pinnacles, scattered like broken tombstones across the desert sand and the Bungle Bungles, striped dome shapes. My favorite rock formation is the pink diamonds found at the Argyle diamond mines near Broome. This area of Western Australia is also known for its pearl industry. The largest and least populated state of Australia, due to the rugged nature of its terrain much of the state is seldom touched upon by mankind. That is not likely to change anytime soon. To continue north from Broome would bring you back to Darwin and passing over Darwin you would eventually arrive in Cairns.
You can spend a day going out to reefs edge on a catamaran where besides diving and snorkeling you can observe the amazing variety of fish and coral from a submersible boat. This mini submarine with windows in great for small children and elder adults, along with non-swimmers. Dozens of islands off the coast sport a wide variety of accommodations. Also Captain Cook and Coral Princess cruise lines ply the waters south to Townsville. The rainforest comes right down to the beach and north of Cairns are wonderful rainforest lodges near Cape Tribulation.
Cairns is found in the northern part of the state of Queensland, and is gateway to the Great Barrier Reef. If you only have a very limited time for your Australian holiday you could spend much of that in Cairns and be able to sample a broad range of activities, and the ecological zones for reef, rainforest and desert. The city fronts a grassy esplanade so if you want beach hotels you need to go further north to Palm Cove or Port Douglas. With over 1200 miles of reef this is the largest natural barrier reef in the world. Paradise for divers, snorkelers and fisherman.
My favorite part of Kurunda was the Butterfly Sanctuary, and the huge irredesint blue Ulysses butterfly. To return to Cairns there is an old Steam Engine train that will make photo stops on its way down.
An easy day trip can be made to Kurunda starting out by a gondola system that lifts you up over the forest. At times your feet will be right over the treetops, and others you will be suspended over river gorges. There are two chances to descend to the forest floor when you come to a pylon where you change cars to complete the journey. These way stations host a visitor's center and trails to explore the vegetation at close range. Once in Kurunda you will find a quaint little village offering good shopping to find something for all those friends and relatives back home. When you are done shopping enjoy a break at one of the many street side cafes.
A good place to learn about the Aboriginal culture is at the Tjapukai Theater. Beside their educational performances they demonstrate boomerang throwing and didgeridoo playing. There is a very good restaurant and a souvenir shop with all manner of Aboriginal arts and crafts. Most people will choose a decorative boomerang, which packs very easy, but my son opted for a didgeridoo, a large one too… These musical instruments are various lengths of hollow wood that have been polished and painted in Aboriginal design, with the mouthpiece reinforced by bee's wax. The sound that emanates from a didgeridoo can be startling as well as mesmerizing. The Aborigines are very adept at using this instrument in their story telling. Another item I found quite interesting was their painting, and system of using colored dots to create patterns.
From Cairns a day trip can be made south to Undara to see the giant lava tubes. During the volcanic era the lava flows cooled more quickly on the outside leaving the inner core to flow on through. The resulting tunnel is big enough to drive a truck through. This is also an option where you might over night and spend the evening around a bush BBQ. An old railway train provides sleeping rooms.
When you head south from Cairns you might choose between the over night Queenslander luxury train or a 3-day Coral Princess cruise to get you to Townsville. This large tropical city is in the heart of sugar cane country. The Queenslander train can also take you further south to Brisbane. Once consider an industrial city, Brisbane has developed its rivers and parklands, and built the Queensland Culture Center composed of Performing Arts Complex, Queensland Museum, Library and Art Gallery. The casino is housed in a wonderful old building that was once the Treasury Building. You might enjoy a riverboat ride to the Lone Pine Koala Sanctuary. From this vantage point you can see hundreds of the giant fruit bats hanging in the river bank trees. Drive a couple hours north to find the Australia Zoo, property of Steve Irwin, known to TV viewers as the Crocodile Hunter. His work is continued today by wife Terri, daughter Bindi and son Robert.
From Brisbane it is a short distance to the Gold Coast and Surfers Paradise. Australia's playground of famous beaches and amusement parks. For something more unique try a trip to Tangalooma Island and swim with the dolphins or go tobogganing on the sand dunes
You are now heading into Sydney and before you do there are a couple stops to consider. The town of Tamworth is the Country Music capitol of Australia and host a lively festival each January, similar to our Nashville Fan Fair. The Hunter Valley is an important wine growing region and Port Stephen's offers another opportunity to meet koala and dolphins in their natural state. For die hard opal fans Lightening Ridge is the prime area for finding black opals.
Our tour brings us full circle to Sydney. All good journeys should end on a 'high' note and there is no better place in Australia to get high, whether it be dinning at the top of the Centrepoint revolving tower, or doing a Bridge Climb of the famous Sydney Harbor Bridge. The harbor has a life of its own and provides many means to experience it. I suggest departing from Circular Quay for a Capt. Cook harbor cruise tour, or take a ferry to Taronga Zoo or Manly Beach. There are paddle wheel boats for dinner cruise as well as a mock of the old Bounty. If this were the only area you came to visit you could still experience a lot of what attracts us all to Australia - the agreeable climate, a city with beaches, theater, arts, sports and nightlife. The Taronga Zoo and the Sydney Aquarium for wildlife. Scores of restaurants and abundant shops and gardens for pedestrian discovery.
Historical sights both old – the founding Rock's area, and new - the Olympic Park. When you grow weary from all the seeing and doing, take time to relax and enjoy a performance at the Sydney Opera House. Someday in my life I want to experience New Years Eve in Sydney and watch as the whole Harbor lights up with its grand fireworks display. If there is one thing Australians know how to do it is throw a good party.
Take a day trip west to the Blue Mts. to see sheer cliffs, canyons and waterfalls, or north to the Hunter Valley wineries. If possible do these as an over night, staying at a B&B or a hosted farm stay. Going out and meeting the Aussies will reward you as one of the most memorable parts of your holiday Down Under. You are sure to want to bring some of Australia home with you and things you may consider would be sheep skins and woolen products, wines, opal jewelry, musical and video tapes, Aussie hats and Aboriginal arts and crafts. It's easy to cover everyone on your gift list
This 'brief' outline of Australia is just the beginning. There is so much more that I would like to share with you. I never get tired of my trips to Australia and I love to share my fascination with anyone that will listen! I would be most happy to assist you in planning your own Australian holiday so please don't hesitate to contact me.
Visit the Contact page to let me know what kind of trip you might be interested in. Cheers!!! Jeane